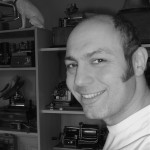 Created in 2004, the Phonogalerie is a tribute to the enthusiasm of Jalal Gerald Aro for all that concerns the early recording of sound.
Born in february 1967 in Aleppo, Syria, Jalal came to Paris to study as a dental
prosthesist. Like most students he did a multitude of odd jobs which led him, by chance into the fashion world for which he discovered he had an inclination. In this field he worked in the shops of Jean-Paul Gaultier and Paul Smith.
His first meaningful contact with the phonograph dates from this time. The Colbert Gallery was putting on an exhibition entitled "De fil en aiguille" on the subject of early sound recording devices and Jalal found himself walking through it every day. Inexperienced, he bought a machine from a stand, his very first phonograph. It turned out to be a copy. Stimulated rather than otherwise by this episode he set out, with his partner Charlotte, in search of interesting and this time original, models. In the course of his quest he developed a network of contacts with collectors all over the world and, at the cost of considerable perseverance, he has now assembled a vast and comprehensive personal collection.
Jalal's enthusiasm for the subject started to dominate his life to such a point that he decided to make it his profession. At the time his collection filled a room provided by a friend near the Père Lachaise cemetery. His enthusiasm soon led to a conviction that the subject of his interest merited a wider audience and should be available to all. With this in mind he set about searching for a suitable home for the project in the old "café-concert" district of Paris, the Montmartre-Pigalle district.